Four Different Types of OTR and Industrial Tyres
4 Different OTR Tyre Types
The International Standard Organisation (ISO), the European Tyre and Rim Organisation (ETRTO), the Tire and Rim Association (TRA) and the Japan Automobile Tyres Manufacturers (JATMA) validated the TRA as an international benchmark. The 4 OTR tyre types in question are shown below and are reflected in the first letter of the TRA code.
C = Compactor
G = Grader
E = Earthmoving
L = Loader and bulldozer
Within these 4 tyre types, there are also different tread depths and tread patterns for very specific uses. These differences are indicated by a number. the choice of this number should be based on 2 important factors: The type of ground/surface and the tyre's condition of use.
There are 6 different tread depths:
1. Ribbed (normal tread depth)
2. Traction (normal tread depth)
3. Normal (normal tread depth)
4. Deep (deep tread depth)
5. Very Deep (very deep tread depth)
6. Flotation (normal tread depth)
At Magna Tyres, we use the table below to indicate the difference between the patterns. To find out more about the different patterns, you should read the blog about tread patterns and tread depths. the 'S' indicates a smooth tread, for example: L5S.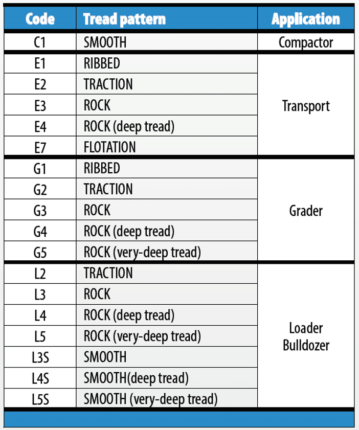 Always
Updated.
Subscribe to the newsletter and be among the first to receive our latest updates.